NEWS
The news of the Alouette, are also exhibitions, vernissages, concerts, exchanges.
I would like to receive the events of the restaurant by newsletter.
Our latest news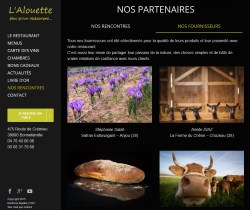 The Alouette restaurant launches its new website
07/02/2017 : Today, the Alouette restaurant is launching its new website.
It is more modern, reflecting as much as possible the atmosphere and the project of our establishment. We hope that he will be able to answer any questions you may have about our restaurant. If you are missing information that you feel is useful, please send us an e-mail to let us know.
Your devoted master-restorer Jean-Claude MARLHINS.