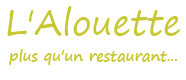 THE RESTAURANT TEAM PROJECT
The Alouette is the research for a beautiful harmony between gourmet cuisine and culture. Our exchanges with the artists have opened us to several sources of sensibilities. We do not just want to "feed" our customers but to transport them, to make them travel … A journey where all the senses would be awake, with each culinary and artistic discovery.
The Alouette is also the tradition of the table" à la française", constantly revisited by a passionate team and continuously in search of the satisfaction of its customers.
Our distinctions (Michelin, Gault and Millau, Master Restaurateur, Toques Blanches…) testify to our commitment to serve you for more than 35 years.